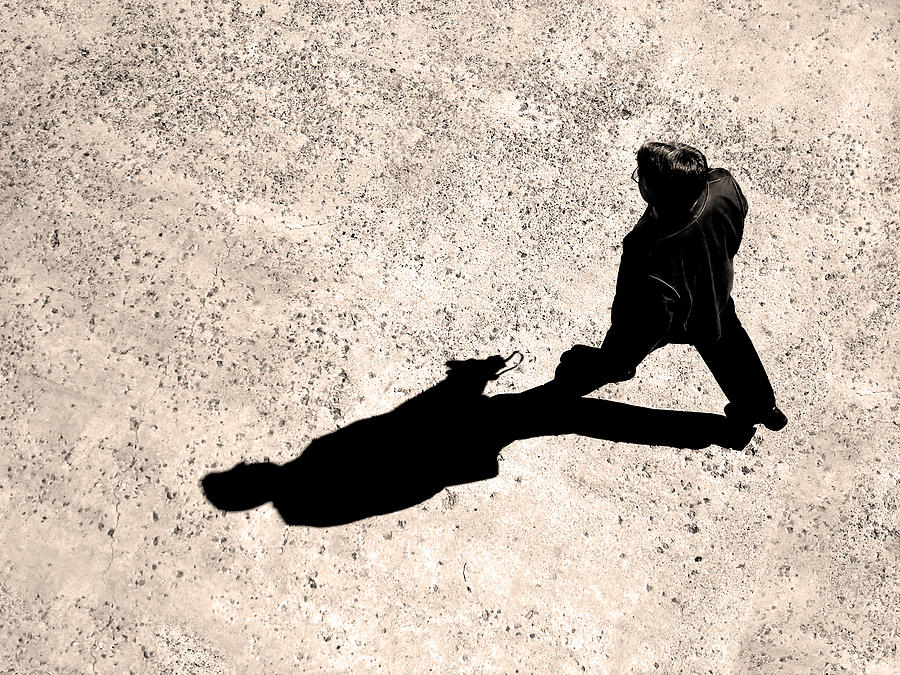 '...abide under the shadow of the Almighty' Psalm 91 v 1
During the summer I set off one sunny morning on a walk which, according to a tourist brochure, would eventually lead me through a forest to a vantage point from where lovely views could be enjoyed.
I noticed as I walked towards the forest that my body was casting a shadow on the ground. It was interesting to see that no matter which way I turned my shadow remained attached to me and the thought came to mind that if we are committed to following Jesus He becomes 'a friend that sticketh closer than a brother,' Proverbs 18 v 24.
My shadow was dark and could be clearly seen. It followed me closely wherever I went.
It is a wonderful blessing to have such a close relationship with the Lord that, like my awareness of the shadow following me, we are always aware of His presence. But, have you ever considered that the closer you are to Jesus, the darker you will appear to be?
Friends, Jesus invites those who believe in Him to '
Abide in me,' John 15 v 4,
for without Him we
'can do nothing,'
John 15 v 5.
It is as we learn to abide in him by committing everything into His hands and go through each day 'Looking unto Jesus,' Hebrews 12 v 2, that we become to Him as 'the apple of the eye,' Psalm 16 v 8.
But, as we study the Word of God and perceive the Holiness of Christ, our own shortcomings should become more apparent to us and we may understand why the writer wrote in Solomon's Song Ch1 v 5, 'I am black,' for we are dark in comparison to the perfection of Jesus.
May God's guiding presence be constantly as close to us as our shadow on a sunny day so that despite our unworthiness we become 'complete in Him,' Colossians 2 v 10.
As I entered the forest, the canopy of branches above my head blotted out the sun and my shadow disappeared. From then on it only appeared when there were gaps in the trees around me.
In a similar fashion, as I lost sight of my shadow, we can lose sight of God's presence in our lives. Like the thick canopy between me and the sun, trials, difficulties, uncertainties and disillusionments can make us feel that God has covered Himself 'with a cloud, that our prayers should not pass through,' Lamentations 3 v 14.
At times we find ourselves asking God 'How long wilt thou forget me, o Lord? Forever? How long wilt thou hide thy face from me?' Psalm 13 v 1.
Dear reader, God's promise to us is 'yet will I not forget thee. Behold, I have graven thee upon the palm of my hands;' Isaiah 49 v 15, 16.
As I entered a clearing the sun's rays penetrated through the trees, dappling the forest floor in shadows.
And my shadow returned to accompany me again. It had not gone forever. It had just left me for a while.
And so it is that at times God may tell us that 'I hid my face from thee for a moment; but with everlasting kindness will I have mercy on thee,' Isaiah 54 v 8.
He may for a while withdraw His presence. Perhaps to try our faith, perhaps to cause us to seek Him more in prayer and meditation or perhaps to make us realise how much we would miss Him if He were never there. But like a shadow lost on a cloudy day He will return.
As my walk progressed, the path I was following was often crossed by other smaller paths. I knew that if I strayed from the main path I would get lost and so kept following it. It was only when I came to junctions that were clearly signposted that I deviated from the path and followed the new paths that would eventually lead me to the viewpoint at the top of the hill.
And what a wonderful view it turned out to be! It was far beyond what had been described in the tourist brochures.
In the Shadow of God's Wings
Friends, may God help us to
abide in Christ,
and stick to Him like a shadow, by trusting in the Word of God as I trusted the signs in the forest, to lead us to glory and the
wonderful inheritance of abiding in the shadow of God's wings for ever.
And may we in the course of time be able to say that 'the half was not told me,' 1 Kings 10 v 7, for regarding our eternal destination, all we can read or imagine is but 'a shadow of things to come,' Colossians 2 v 17.